About Gerda Williams, M.S.N., A.R.N.P.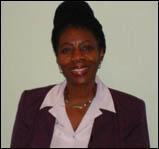 Gerda Williams has a private practice in Florida since 1992. She holds a Masters of Science Degree from the State University of New York at Stony Brook where she majored in Psychiatric Mental Health Nursing. She also holds an Advanced Registered Nursing Practitioner certificate.
In addition to private practice, she is a registered clinical practitioner who provides psychiatric assessment and medication management for a diverse population across the life spectrum in a major County Community Mental Health Clinic.
Outside of clinical practice, Ms. Williams provides inspiring lectures and expert information on women's health and mental health topics.
Ms. Williams has written articles for the National Newspaper Publishers Association (NNPA) on children and mental health issues which have been featured in numerous national newspapers. She has also been heard and seen on both radio and television regarding her work with mental health issues.
Ms. Williams is a member of the American Nurses Association, the Florida Nurses Association, and Sigma Theta Tau International (The Honor Society of Nursing).